Elliman brought on to handle sales at Ritz-Carlton Residences in Miami Beach
Premier to stay on as consultant; ONE Sotheby's off project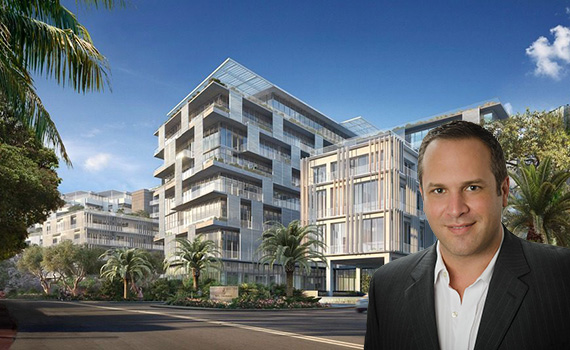 Lionheart Capital has brought on Douglas Elliman Development Marketing to take over sales and marketing for the Ritz-Carlton Residences, Miami Beach.
Previously, Premier Sales Group and ONE Sotheby's International Realty were both handling sales in some capacity, Lionheart Capital founding partner Ophir Sternberg told The Real Deal.
While South Florida's luxury condo market is experiencing a slowdown in sales, Sternberg told TRD that the Ritz-Carlton Residences has not been affected. Sales launched in late 2013. The luxury waterfront development is now 65 percent sold to about half local buyers, as well as those from New York and the Northeast.
With that demographic in mind, "We wanted to bring in a group that's deeply rooted in [markets] where we're selling," Sternberg said of Douglas Elliman. Philip Gutman took over the project as vice president of sales at the end of June. Gutman, who led the record $1.275 billion sellout for the Las Vegas Cosmopolitan Resort & Casino, was tapped as Elliman's vice president of sales for all of Florida last year. Elliman agents Darin Tansey, Bill Hernandez, Bryan Sereny and Viviana Junc are also part of the Ritz-Carlton sales team.
"I think overall our expertise with high-end luxury product and our reach domestically and internationally is what did the trick," Gutman told TRD.
ONE Sotheby's declined to comment, but a spokesperson said the brokerage was "contracted to consult the developer on certain international marketing sales tactics," and did not handle sales for the project. Premier Sales Group, meanwhile, will stay on as a consultant with the developer.
When completed, the 7-acre development, at 4701 North Meridian Avenue will have 111 condo residences and 15 single-family villas. Designed by Piero Lissoni, the Ritz will feature gardens, pools and 36 private boat slips. Shared amenities will include a residential art studio, a rooftop pool deck with private cabanas and a gourmet restaurant, a waterfront bar and social room, pet grooming facilities, indoor and outdoor yoga studios, a meditation garden and carwash facilities. It's being built on the site of the former Miami Heart Institute.
Earlier this year, Lionheart brought on Gigi Ganatra Duff in a new role for the company, chief marketing officer. Ganatra Duff is helping expand Lionheart's portfolio and shape the firm's marketing and sales efforts, which includes hiring Douglas Elliman.
Prices range from $2 million to $40 million. In March, Lionheart offered a discount to Canadian buyers during The Real Deal's first U.S. Real Estate Showcase & Forum to compensate for the strength of the U.S. dollar.
Sternberg said the project, which has topped off, is on track to be delivered in the first quarter of next year.
Source: https://therealdeal.com/miami/2016/07/27/ritz-carlton-residences-splits-with-one-sothebys-and-hires-elliman/