Phil Gutman lands at Brown Harris Stevens as executive VP, managing broker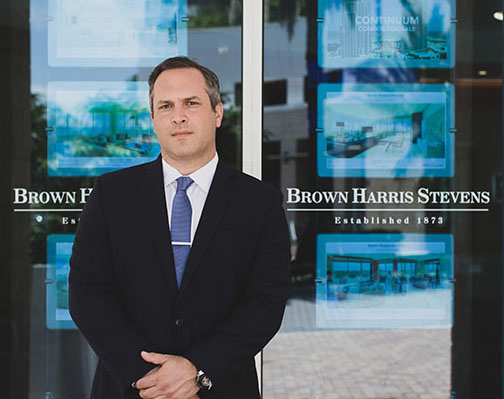 Sales and marketing executive Philip Gutman has joined Brown Harris Stevens as executive vice president and managing broker of the firm's Miami Beach and Key Biscayne offices, Gutman told The Real Deal.
Gutman left Douglas Elliman Development Marketing earlier this month, where he was vice president. At BHS, he'll be tasked with overseeing the firm's expansion in South Florida and bringing on new developments.
BHS entered the Miami market in June 2015 with the purchase of Mark Zilbert's Zilbert International Realty, and then opened a second office in Miami Beach. The New York-based firm, which had a small presence in Palm Beach since 1999, closed on the purchase of Vivian Dimond's Avatar Real Estate Services in January. The brokerage also just opened its Key Biscayne office at the Galleria, 328 Crandon Boulevard.
Gutman will be working with Zilbert, Dimond and BHS co-chairman William Lie Zeckendorf to oversee South Florida. Zilbert will take on an advisory role at BHS, focusing on technology and sales programs for agents, staff and support for senior management, according to a press release.
Founded in 1873, Brown Harris Stevens has offices throughout New York City and the Hamptons in addition to South Florida. Firms like One Sotheby's International Realty and Elliman have also been expanding in the tri-county region by acquiring smaller firms.
Gutman spoke with several firms over the past few months, but decided on BHS because of its connection to New York City and that it is "positioned properly to help grow and expand in the next cycle."
"They're very strong with new development in New York, and now in South Florida, I'll be putting infrastructure in place for new development in Miami," Gutman said, adding that he'll be focusing on targeting a handful of projects. He said the firm would like to pick up a few projects that want a change but never had the option to go to Brown Harris Stevens.
Over the past three-and-a-half years, Gutman led Elliman Florida's portfolio of more than $3 billion of new development, which included 1 Hotel & Homes South Beach, the Ritz-Carlton Residences, Miami Beach and Monad Terrace.
For now, he will focus on adding agents, acquiring firms and bringing on sales and marketing exclusives. "I think the summer needs to come and go, and by the fourth quarter of this year, you'll start to hear about some new projects coming to market," Gutman said.
Source: Source: https://therealdeal.com/miami/2017/05/30/phil-gutman-lands-at-brown-harris-stevens-as-executive-vp-managing-broker/